It is a given that journalism is necessary for a democracy, it is the fourth estate. Democracy cannot survive without journalism . If a single party gets a majority, then journalism actually serves the important role of the opposition and provides the government with necessary feedback, these views were expressed by former Secretary Government of India, Mr Anil Swarup while delivering the annual R N Dwivedi Memorial lecture.
"In 1991, as Information Director, when I was introduced to Mr R N Dwivedi I found him to be a very professional journalist which I find missing in today's day. He had an objectivity in his writing based on facts without any leanings or bias", said Mr Swarup who is an author and public speaker and runs a movement called #nexusofgood for identifying, appreciating and propagating good work.
"Journalists don't work in a vacuum but in a set of circumstances. It is probably difficult to remain fearless in today's age. Several channels are held by businesses and vested interests. Plus, the consumers also seek only 'masala' news so what can the media do," he said adding that social media is the other challenge, where "anyone can say anything and it can also be managed, as we know of Facebook. How can we ask only journalists to be ethical when no leaders want to hear anything against them?".
Mumbai Slums breed an undefeatable virus(Opens in a new browser tab)
Praising the late Mr Dwivedi's style of journalism he said, "I have seen journalists very closely. Someone like Mr Dwivedi could never be influenced or compromised. Preconceived notions were not converted into news. What we can urge journalists today is that at least do not twist any facts. Do the homework to go into details before making comments. It is important to know the facts, that is how we can save democracy."
Aaku Srivastava, Editor, Navodaya Times, agreed with the issues raised but he said that the sad state of journalism is not caused suddenly but appeared post liberalization in the country. "Journalists today want more. They are looking for laurels, awards and rewards. With the advent of electronic media, we want to say everything as either one side or the other – either pro or against every kind of news. With an eye on TRP, they get diverted from the right track."
Naveen Joshi, former Editor, Hindustan said that the question needs be asked why would someone become a journalist? What is the expectation from being a journalist? "Earlier, when they reported from the Chambal ravines, or of floods or droughts, their reward was just the impact of that news. They did their research, travelled treacherous terrains but were happy to do it because to do something for people was their motto. Their words needed to have an impact", he said adding that "there was a time when the government sought out the journalists. Politicians came to do the editor's office. Now politicians talk with the owners directly."
Ram Dutt Tripathi, senior journalist and former BBC correspondent, said that journalists are also finding it difficult to work in today's claustrophobic institutions. "They are not happy to compromise with their conscience and are trying to get away. There is now a need for a Journalist Collective for good reporting with truth and honesty, he said.
"Social polarization is now combined with business strategy and therefore media has to take sides. Now individual journalists will have to break away from this atmosphere so they can report what is important," Mr Tripathi added that journalism schools are not really producing well informed young people who are competent enough to take on the mantle. Many institutions also do not incentivize good content or honest journalism.
Alok Joshi, YouTube broadcaster @1AlokJoshi and former Managing Editor of CNBC Awaaz, added to that saying "Many newcomers only want to become anchors. I have tried to find young talented journalists, but they are hard to find. But when we do find someone who has the fire for journalism, then they surprise us and keep the hope alive. Young journalists should not think about rewards but why do they really want to become journalists.".
Shesh Narain Singh, senior journalist and political editor Deshbandhu, also took part in the discussion and made the important point that the world needs journalists who are not agenda driven. "R N Dwivedi's style of journalism is the need of the day. It is true that people do not study much anymore. They do not know the history of India. You need retrievable information to do good reporting", he said adding that facts-based journalism is even more crucial today. Independent media can claim the space which is not available in traditional platforms.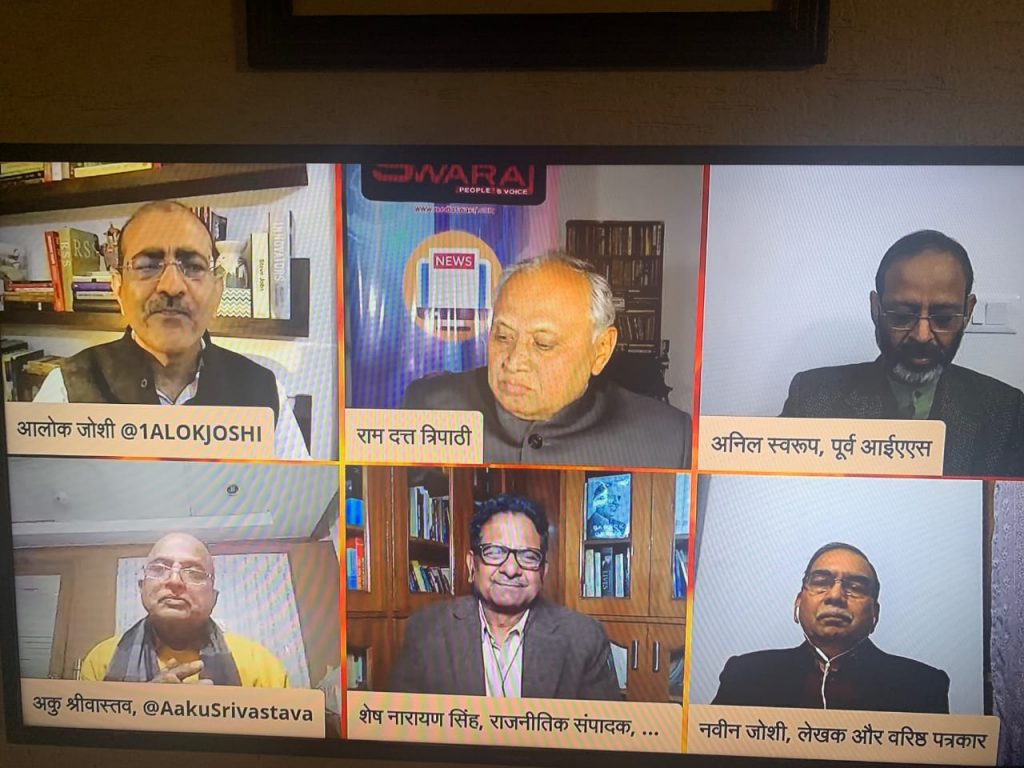 "Lucknow has been the epicenter of politics in the country and young journalists need to know the sequence of events in Uttar Pradesh which have led to the current climate and political equations. In knowing the facts, and the history, their own understanding and reporting would be more informed," added Mr Singh while recounting the last 4-5 decades of political turmoil in the state
Rudra Narain Dwivedi was one of the senior-most journalists in Uttar Pradesh until his untimely death in 1999. He was the Bureau Chief of the news agency United News of India in Lucknow. With an acclaimed and impeccable style of writing, he was known for impartial journalism. This event is an annual celebration of good journalism, and a forum for debate and discussion on the state of media.
Related Images:
[See image gallery at mediaswaraj.com]
The post Ask, inquire and know the facts as democracy needs journalism! appeared first on Media Swaraj | मीडिया स्वराज.